Jewish Museum in Warsaw and Tours
Trace the history of Warsaw's Jewish community in the amazing Jewish Museum (POLIN). Explore World War II traces of the Jewish Ghetto, and visit the: Ghetto Wall, Nożyk Synagogue, Jewish Cemetery.
---
Warsaw's POLIN Jewish museum
Warsaw was the biggest Jewish community in the whole world after New York. The Jewish Museum in Warsaw (POLIN) is the best place to discover the History of the Polish Jews.
Recently, the core exhibition of the museum was enriched with a new installation, which presents the stories of Jewish residents who were imprisoned in the Ghettos during WWII.
Also, the core exhibition of the museum is a journey through the 1000–year history of Polish Jews! Tickets to the Jewish Museum in Warsaw are 25 PLN, concessions: 15 PLN, and it's free admission on Thursdays!
Buy your Skip the Line Ticket with a Jewish Museum Private Guided Tour in Many Languages!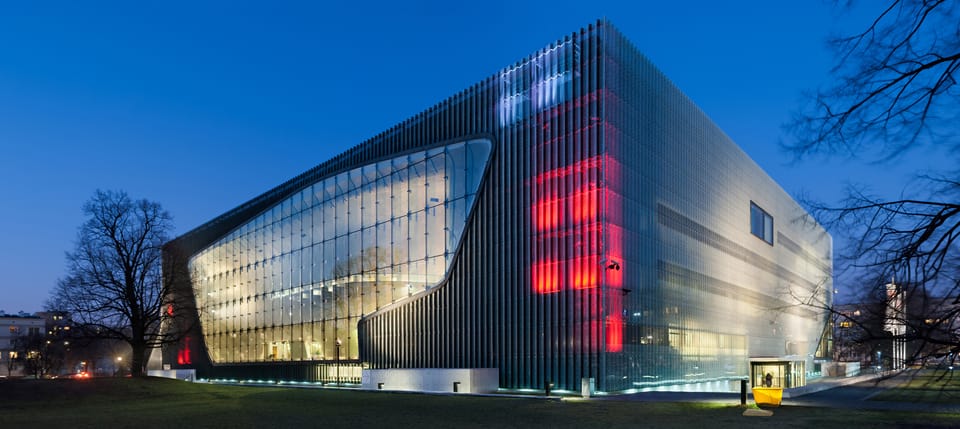 ---
---
History of Jews in Warsaw and Poland
The story of Jewish Warsaw is a story of stubborn returns. For many years, even centuries, Jews were banned from the city. However, that did not stop them from participating in city life – during good times and bad.
Jews joined Varsovians in their struggles against occupying powers, and they played an active part in the Polish uprisings.
Ask to see any places of particular interest, savor on-board snacks, and stop on route to enjoy an optional Jewish meal at a traditional restaurant (own expense). This private tour ensures the full attention of your guide.
Jewish Tour in Warsaw by Retro Fiat
Start your private Jewish tour in Warsaw with a pickup at any point of your preference. It can be a central Warsaw hotel or the Warsaw airport.
Meet your knowledgeable guide and settle into your Fiat 125p, the 1980s car that was a fixture of life in communist-period Warsaw. Your tour includes a souvenir photo of you with your car, and onboard snacks to sustain you during your explorations.
On route, learn about the history of Warsaw's Jews and how they faced the perils of WWII's Nazi occupation with great forbearance. If you wish, ask your guide to tailor your route to include any particular points of interest to you.
Explore the former Jewish Ghetto area and see the remnants of the Ghetto Wall, the red-brick edifice built in 1940 that effectively imprisoned more than 400,000 Jews.
View photos and hear stories about this terrible period, and then pass Grzybowski Square (Plac Grzybowski), once a part of the ghetto, on your way to the Nożyk Synagogue.
Head inside to look around this still-operational synagogue, the only one in Warsaw to survive WWII. Continue deeper into the former 'Large Ghetto' of Muranów, built on the rubble of the ghetto, and now adorned with street art and modern buildings.
Park here and take a walk around the Jewish Cemetery to see some of its thousands of graves.
Next, pay your respects at the imposing Warsaw Ghetto Heroes Monument and, if you wish, visit the nearby Museum of the History of Polish Jews (own expense).
Opened in 2013, this acclaimed modernist space documents 1,000 years of Polish Jewry through artifacts and imagery. Inspect the exhibits and follow the personal life stories told here as you explore.
If you wish, ask your guide to show you some locations used in Roman Polanski's Oscar-winning movie. The Pianist, set in Holocaust-era Warsaw.
See some of the settings in the Praga-North (Praga-Północ) district and then perhaps finish your explorations with an optional kosher lunch or dinner (own expense) at a local restaurant.
Your tour then ends with a drop-off back at the original start point.
Tour Highlights
Comprehensive tour of the city
Flexibility to customize your itinerary to your own preferences
Free hotel pickup and drop-off included
Fully narrated tour
Get inside tips from a local
Private guide for a more personalized experience
---
You might be interested also in
---
More Jewish Tours in Warsaw
---
Tours by Bike - Warm Weather!
Forget walking, forget the traffic, and get on a bike! With this tour, you see twice as much as on a regular tour. If you're looking for an active way of visiting the city suitable for all people, regardless of their physical ability, the bike is the answer.
You will cover about 15 km / 9 miles, cycling at a very relaxed pace.
Highlights

Pre-war Nalewki St
Muranów District
Museum of History of Polish Jews
Monument to the Heroes of the Ghetto
Miła bunker - Umshlagplatz
The remainder of the Warsaw Ghetto Wall
Nożyk Synagogue
Grzybowski Square
Próżna St.
Check the Jewish Bike tour with online booking (Summer Time) -- Note that might not be available due to weather conditions.
---
Interesting Articles most people Read
Disclosure Notes:
Some links on this page are affiliate links. Meaning, at no extra cost to you, I will earn a small commission, only if you book something through my links!
I recommend only the best-known companies and products!
Are you a Travel Writer? Register with GetYourGuide and start making money by recommending amazing tours worldwide. Find More info in the How to Make Money Online article
Many images on this website come from Pixabay - Free License.
Other images are mine and for the rest, I should have a link to the source of the picture.
Things Change from Time to Time! Have you seen anything wrong? Please send a message in order to correct it! Thank you for visiting ToursPoland.Com.
Last modification: Fri 16 Apr 2021